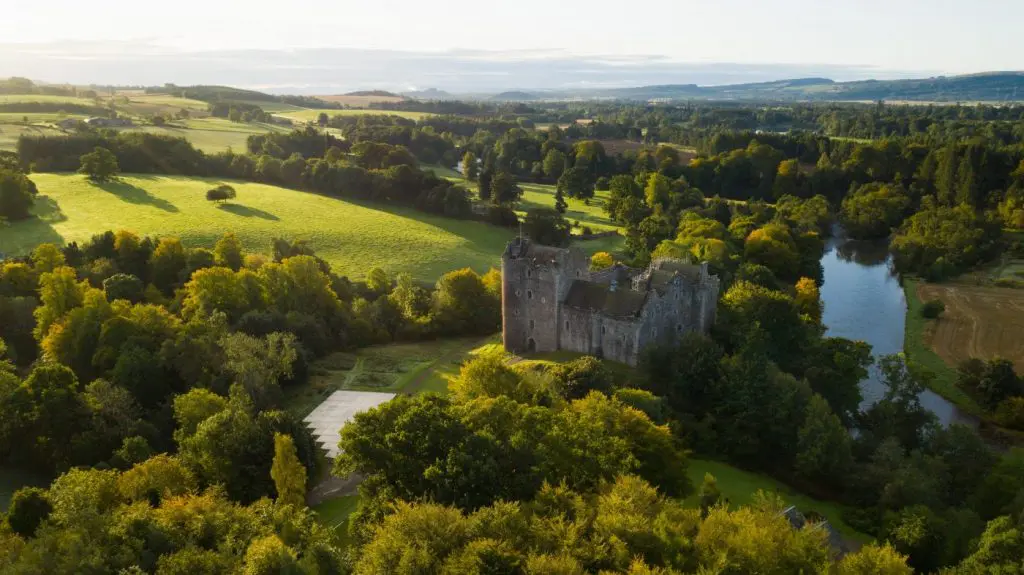 Looking for a bit of adventure? Whilst all of us remain at home, find out where you can spot Heart 200-star Doune Castle on-screen. Get a glimpse of this historic site by journeying to Castle Leoch, Winterfell and Castle Anthrax from the comfort of your home!
History
Doune Castle has been utilised by filmmakers to conjure up, with a bit of movie magic, some evocative settings for scenes in film and television that you might recognise.
The real history of Doune Castle begins with the 1st Duke of Albany, Earl of Menteith and Fife. It is situated on the Ardoch Burn as it flows into the River Teith and was built in the late 1300s. Recent research reveals Albany likely incorporated some aspects of pre-existing structures into his design of the castle.
This, and changes and additions over the hundreds of years of occupation mean that Doune Castle has a lot of character. Details like incongruous Victorian decoration, weirdly shaped rooms with no known purpose and varying degrees of restoration mean that filmmakers have a lot to work with!
Although we can't get to Doune Castle at the moment, you can still see some of this character captured on film.
Monty Python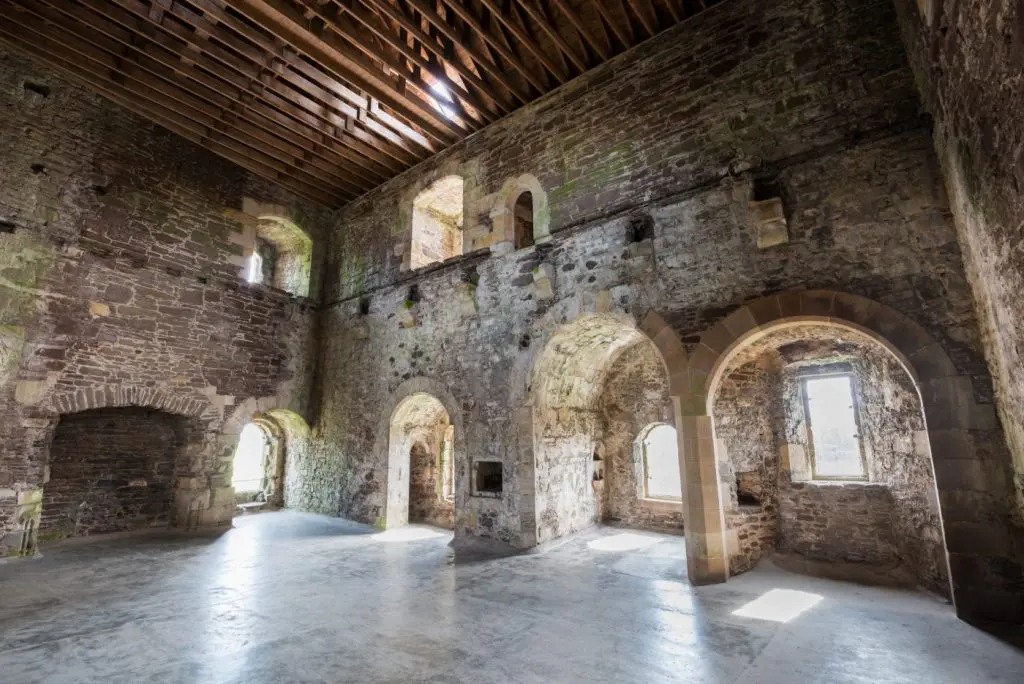 Doune Castle shot to stardom in 1975. Having premiered in Ivanhoe (1997) and The Bruce (1996), it had its first major appearance in Monty Python and the Holy Grail, portraying Swamp Castle, Castle Anthrax and Camelot.
Those who visit Doune Castle are sometimes surprised that scenes for these three locations were all filmed at Doune. Clever cropping and the addition of lots of scene decoration meant three distinct locations were created.
You can get a sense of the scale of the gatehouse tower in the Trojan Rabbit scenes. This view would have been the first thing real-life marauders and invaders would have been faced with. Thankfully for us, Doune Castle wasn't called upon to defend itself too often, which goes some way to explain why it is so well preserved.
Keep an eye out for the serving hatches when Sir Galahad speaks to Zoot on his visit to Castle Anthrax and enjoy the formidable dancing of the Knights of the Round Table all around the Great Hall.
Game of Thrones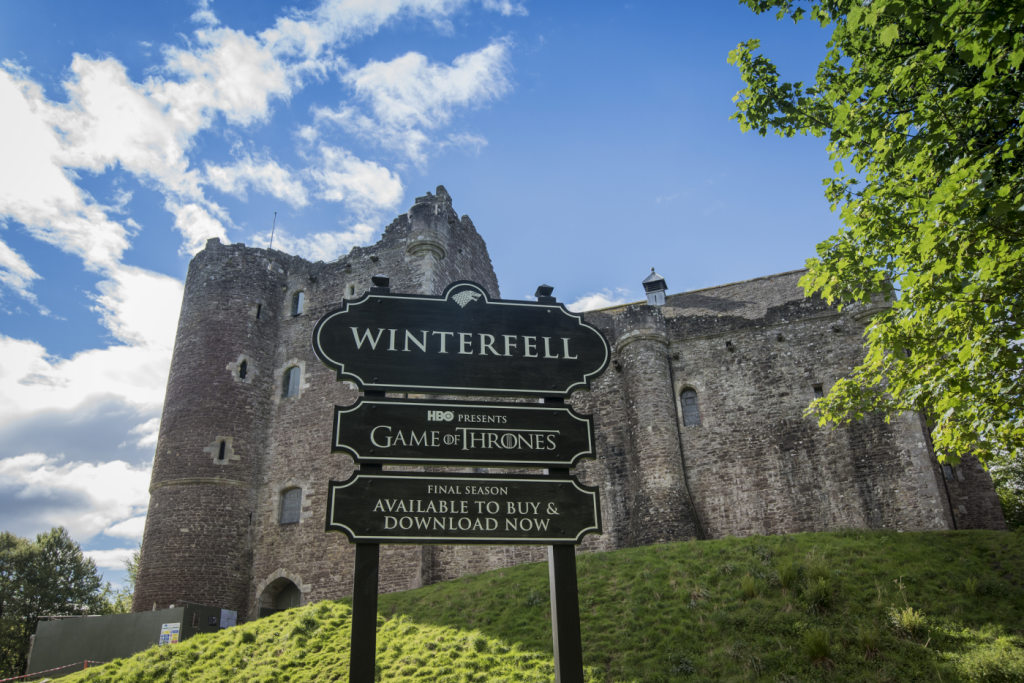 Doune Castle had a short appearance in Game of Thrones, as Winterfell in the 2009 HBO pilot.
We get our first glimpse of the castle as the Stark sisters sit and embroider in front of the fire basket in the Great Hall. This same space is used as the setting for the banquet preparations. A little later the kitchen and double hatches in the servery feature as food is brought through to the guests.
One more detail to look out for is some of the stonemason marks that are in the servery. When Ned and Benjen Stark speak about the Wilding Ambush some of the marks can be spotted behind their heads.
Outlander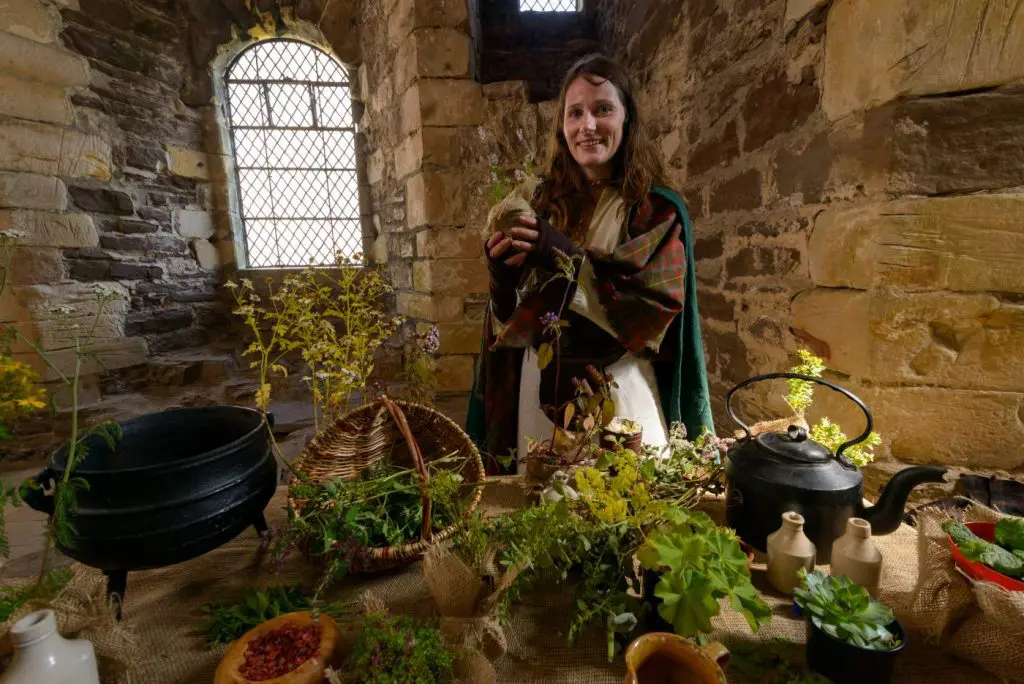 We get our first peek of Doune Castle in the first episode of Outlander. It is seen most clearly as Claire envisions her 20th-century self, next to the car, whilst riding on horseback towards Castle Leoch with Jamie Fraser.
In episode two the interior courtyard of the castle features heavily. Today this area is grassed over and empty, except for the stairways and well that you can spot in the first few scenes. Soil was added to the courtyard to raise the ground, and to protect areas that have not been excavated.
This addition allowed for wooden structures, filming kit, animals and a huge cast to be in the area without fear of damage. It is these prop additions, on top of the character of the castle walls, that transform the area into a believable clan seat.
In the same episode, we also spot Claire on the castle walls, on what we call the 'wall walk,' as she looks down into the courtyard, and you can get a good look at the huge arched fireplace in the kitchen as Claire and Mrs. Fitz nurse Jamie.
The Rest of the Cast
Lots of other Historic Environment Scotland sites can also be seen on screen. Tantallon Castle, Linlithgow Palace and St. Clement's Church and others have starred in Under The Skin, Mary Queen of Scots and Call the Midwife.
Are you a super fan?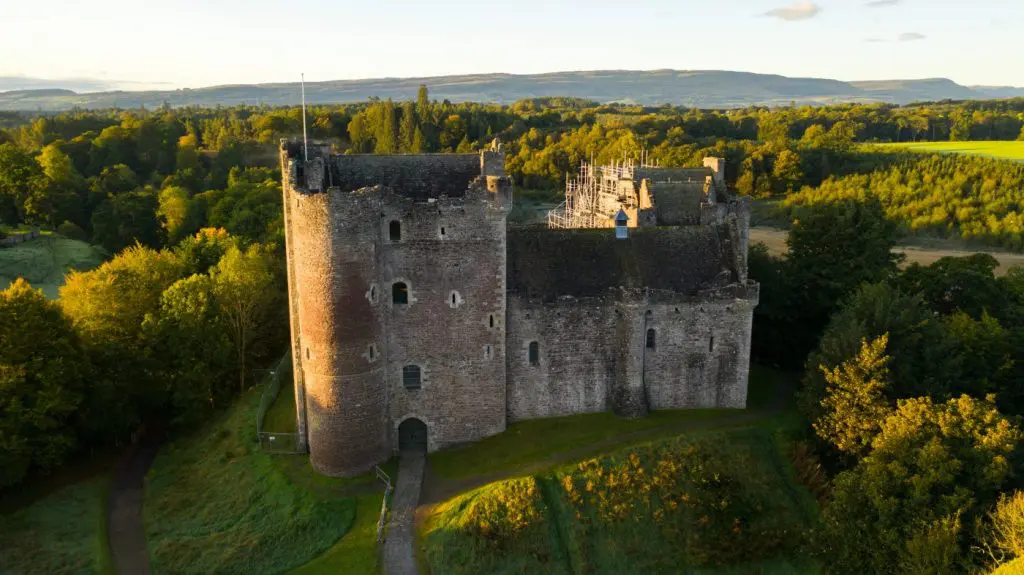 Can't wait to come and visit? Check out our Historic Scotland Facebook, Instagram and Twitter accounts for updates on re-opening of HES properties and get information to plan your trip.
You can look forward to hearing the voices of Sam Heughan and Terry Jones on our audio guide, reading about the history and recent research at the castle in our guidebook authored by expert Dr Nicki Scott, and chatting to our tour guides about their favourite hidden details.
We hope that once it is safe to come and visit us again you will be able to see why this castle is a filmmaker's favourite!
Guest blog author, Rowan, works part-time in the commercial and tourism directorate at Historic Environment Scotland. She is a recent art history graduate and is currently undertaking a heritage and interpretation internship with a small community trust.