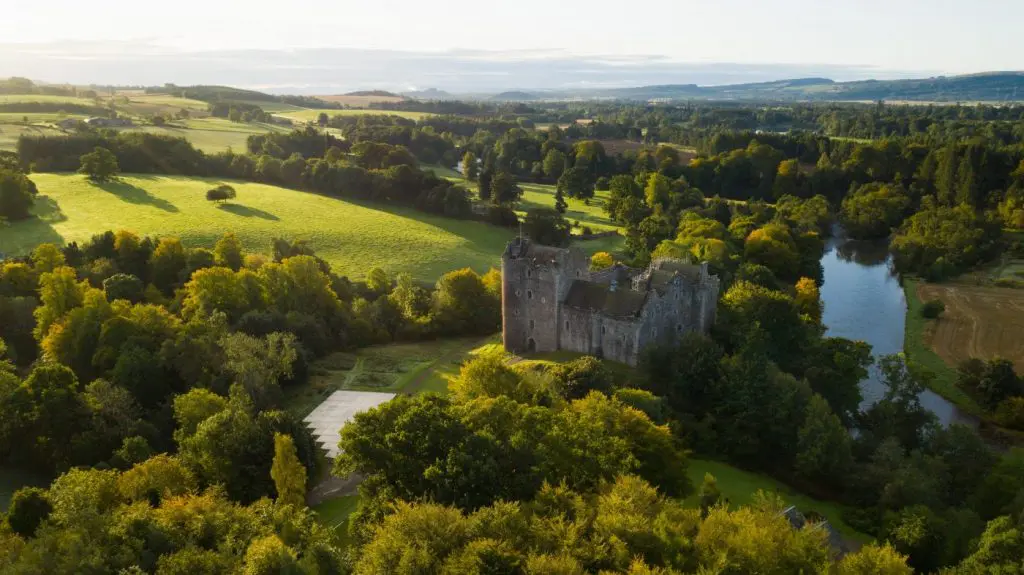 Looking for a bit of adventure? Whilst all of us remain at home, find out where you can spot Heart 200-star Doune Castle on-screen. Get a glimpse of this historic site by journeying to Castle Leoch, Winterfell and Castle Anthrax from the comfort of your home!
History
Doune Castle has been utilised by filmmakers to conjure up, with a bit of movie magic, some evocative settings for scenes in film and television that you might recognise.
The real history of Doune Castle begins with the 1st Duke of Albany, Earl of Menteith and Fife. It is situated on the Ardoch Burn as it flows into the River Teith and was built in the late 1300s. Recent research reveals Albany likely incorporated some aspects of pre-existing structures into his design of the castle.
This, and changes and additions over the hundreds of years of occupation mean that Doune Castle has a lot of character. Details like incongruous Victorian decoration, weirdly shaped rooms with no known purpose and varying degrees of restoration mean that filmmakers have a lot to work with!
Although we can't get to Doune Castle at the moment, you can still see some of this character captured on film.
Monty Python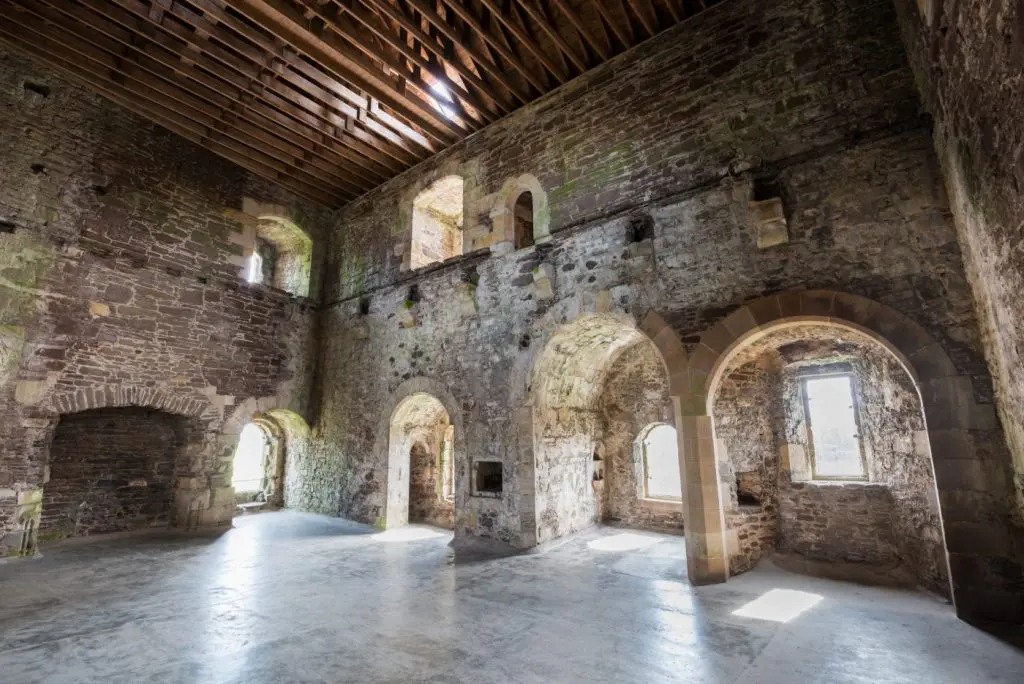 Doune Castle shot to stardom in 1975. Having premiered in Ivanhoe (1997) and The Bruce (1996), it had its first major appearance in Monty Python and the Holy Grail, portraying Swamp Castle, Castle Anthrax and Camelot.
Those who visit Doune Castle are sometimes surprised that scenes for these three locations were all filmed at Doune. Clever cropping and the addition of lots of scene decoration meant three distinct locations were created.
You can get a sense of the scale of the gatehouse tower in the Trojan Rabbit scenes. This view would have been the first thing real-life marauders and invaders would have been faced with. Thankfully for us, Doune Castle wasn't called upon to defend itself too often, which goes some way to explain why it is so well preserved.
Keep an eye out for the serving hatches when Sir Galahad speaks to Zoot on his visit to Castle Anthrax and enjoy the formidable dancing of the Knights of the Round Table all around the Great Hall.
Game of Thrones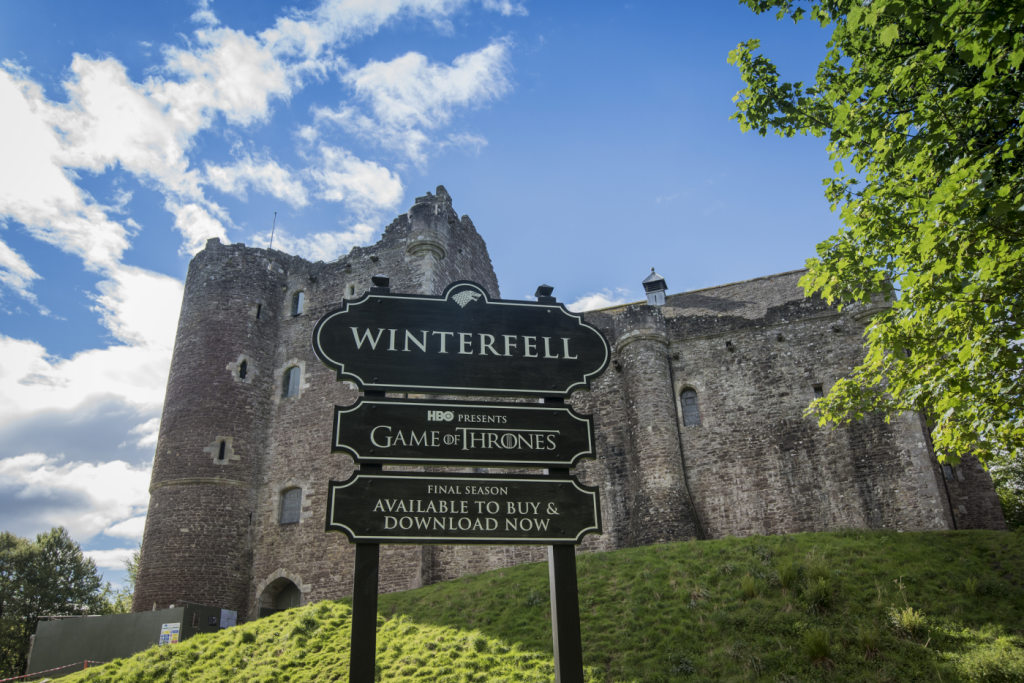 Doune Castle had a short appearance in Game of Thrones, as Winterfell in the 2009 HBO pilot.
We get our first glimpse of the castle as the Stark sisters sit and embroider in front of the fire basket in the Great Hall. This same space is used as the setting for the banquet preparations. A little later the kitchen and double hatches in the servery feature as food is brought through to the guests.
One more detail to look out for is some of the stonemason marks that are in the servery. When Ned and Benjen Stark speak about the Wilding Ambush some of the marks can be spotted behind their heads.
Outlander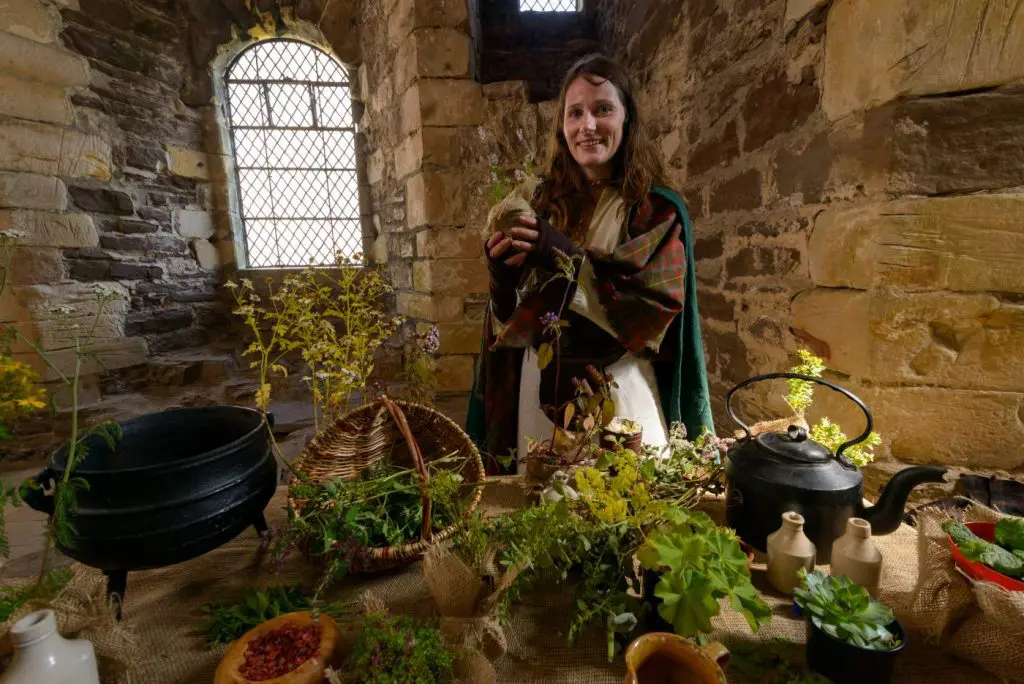 We get our first peek of Doune Castle in the first episode of Outlander. It is seen most clearly as Claire envisions her 20th-century self, next to the car, whilst riding on horseback towards Castle Leoch with Jamie Fraser.
In episode two the interior courtyard of the castle features heavily. Today this area is grassed over and empty, except for the stairways and well that you can spot in the first few scenes. Soil was added to the courtyard to raise the ground, and to protect areas that have not been excavated.
This addition allowed for wooden structures, filming kit, animals and a huge cast to be in the area without fear of damage. It is these prop additions, on top of the character of the castle walls, that transform the area into a believable clan seat.
In the same episode, we also spot Claire on the castle walls, on what we call the 'wall walk,' as she looks down into the courtyard, and you can get a good look at the huge arched fireplace in the kitchen as Claire and Mrs. Fitz nurse Jamie.
The Rest of the Cast
Lots of other Historic Environment Scotland sites can also be seen on screen. Tantallon Castle, Linlithgow Palace and St. Clement's Church and others have starred in Under The Skin, Mary Queen of Scots and Call the Midwife.
Are you a super fan?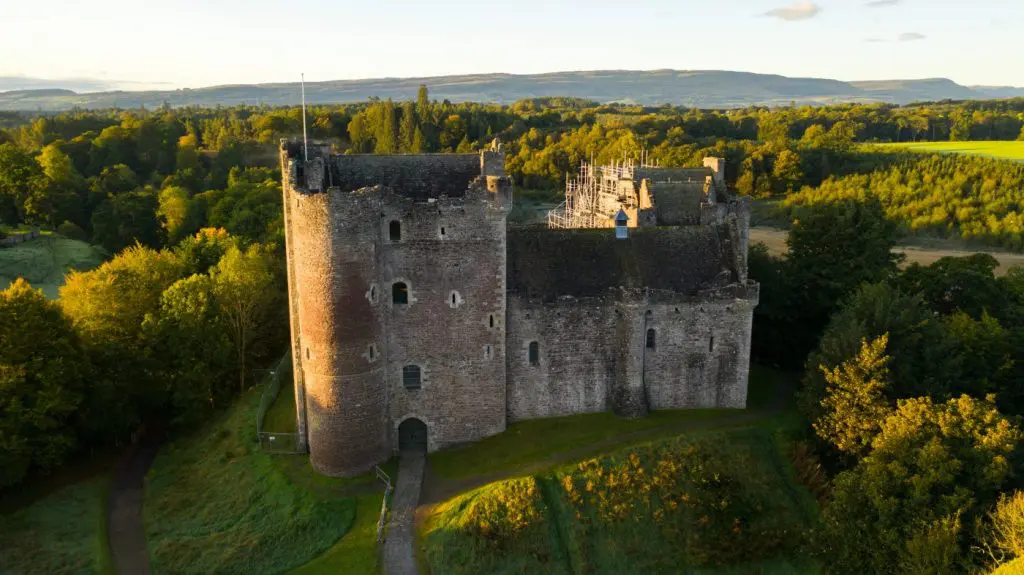 Can't wait to come and visit? Check out our Historic Scotland Facebook, Instagram and Twitter accounts for updates on re-opening of HES properties and get information to plan your trip.
You can look forward to hearing the voices of Sam Heughan and Terry Jones on our audio guide, reading about the history and recent research at the castle in our guidebook authored by expert Dr Nicki Scott, and chatting to our tour guides about their favourite hidden details.
We hope that once it is safe to come and visit us again you will be able to see why this castle is a filmmaker's favourite!
Guest blog author, Rowan, works part-time in the commercial and tourism directorate at Historic Environment Scotland. She is a recent art history graduate and is currently undertaking a heritage and interpretation internship with a small community trust.
I am a Genealogist.  I don't wear cardigans.  Genealogy once was the preserve of retirees with enough time on their hands to pass hour upon hour in dimly lit archives leafing through dusty ledgers or unravelling medieval scrolls.  Nowadays millions of family trees can be searched online in seconds and digitised documents can be examined in exquisite detail.  Long-buried family secrets are unearthed and aired due to the availability of commercial DNA testing kits – over 26 million people worldwide have taken ancestral DNA tests [1].  As a consequence of these and other technological developments, the demographic profile of the average Genealogist has altered beyond recognition and cardigans are no longer de rigeur.
Engaging marketing has inspired people from all over the world to join Ancestry.com, Find My Past, My Heritage and other online genealogy sites, to successfully research their family histories and to travel to the places their ancestors called home. There are Scots in every nook and cranny of the Earth. Estimates of those claiming Scottish descent vary between 30 and 100 million [2]. 23% of long-haul travellers to Scotland cited their Scottish ancestry as a primary motivation for their visit [3]. According to a survey carried out by Visit Scotland in 2013, around a quarter of visitors whose ancestors lived in Scotland took part in ancestral research during their visit [4].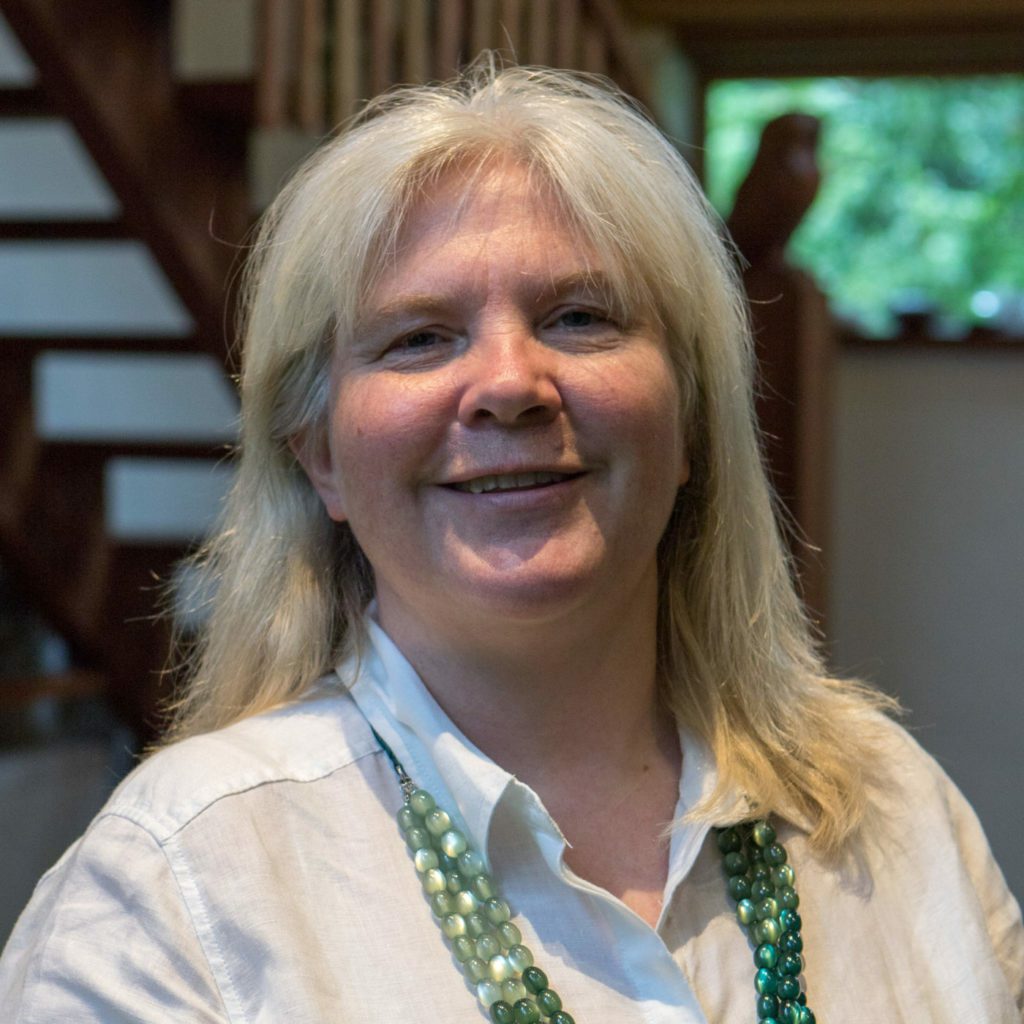 International travel is experiencing a downturn, due in large part to Covid-19, but the summer of 2020 saw UK staycationers exploring parts of these islands they had previously overlooked or deferred.  Indeed, long before Covid-19 became such a huge issue, people within the UK wanted to search out the places where their ancestors lived: of the 213,000 trips made to Scotland in 2012 which involved ancestral research, 62% were made by UK residents [5].  In our post-Covid world, more and more visitors from the rest of the UK will be given a warm Scottish welcome, many clutching their DNA profiles and ethnicity estimates to their chests.
And there is plenty for them to see and to find out.  For instance, there are many places to visit on and around the Heart 200 route where momentous events took place which shaped history and the lives of the people of Scotland – Bannockburn, Killiecrankie, Scone Palace, Loch Leven Castle, the list goes on – you can read about these and many more in The Heart 200 Book [6].
For those on the trail of ancestors, the Heart 200 route covers areas once dominated by families such as the Buchanans, Grahams, MacGregors and MacNabs in Stirlingshire; the Campbells of Breadalbane, Clan Menzies, the Murrays, Drummonds, Rollos, Ruthvens and Hays in Perthshire; and the Bruces and the Erskines in Clackmannanshire.  In times past all of these had septs or families which supported them.  These names too continued to be common in the area, e.g. the Dewar family was a sept of the Menzies clan in Highland Perthshire [7].  In 1841, the concentration of the Dewar surname was 6.5 times higher in Perthshire than it was elsewhere in Scotland [8].  Likewise, the Gilfillan family was a sept of the MacNabs [9].  In 1841 there were almost 8 times more Gilfillans in Stirlingshire than there were elsewhere [10].
Modern genealogy offers far more than incidence of surname and possible connections to clans and tartans.  It is well within the competence of the enthusiastic amateur to trace Scottish grandparents' lines back to the mid-18th century through records such as civil registers of birth, death and marriage; censuses between 1841 and 1911; and parish records prior to civil registration, all available online (for very reasonable fees) at Scotland's People [11].
Genealogy is a fascinating pastime no matter where your forebears called home and more and more information is being made available all the time, often for free. In most cases research can be kicked off with only details of grandparents and it doesn't require university degrees in history and information technology. The online genealogy community is incredibly supportive of newbies and collaboration is the norm.
Scotland's People's civil, census and parish records often provide significant amounts of detail, including addresses and names of villages and farms.  Even if these places no longer exist, they can be pinpointed with remarkable accuracy at the National Library of Scotland's wonderful map images site [12].  In addition to using old maps to identify buildings and places which are not marked on modern maps, the site has the facility to place old maps side by side with modern maps and provide coordinates that can be found on the ground using technology readily available on the average smartphone.
Even if visitors to the Heart 200 area have no direct ancestral connection, the landscapes and stories reflect the lives of people all over rural Scotland. Visits to historic buildings, representations of the living and working conditions of ordinary people as well as the undeveloped landscapes in which they lived all bring the past to life irresistibly.
Ancestral DNA has the potential to reward amateur researchers with incontrovertible evidence to confirm family lore or to solve mysteries. Those who were raised with stories that their ancestor was the illegitimate offspring of an earl or a lord may find evidence through their DNA matches that would be incapable of being proved in any other way. Be warned, however, that much-loved and frequently told family stories can be blown sky high when unsupported by any shred of scientific evidence. It may be that Granddad used to boast of being a Bruce with direct lineage to the King of Scotland – DNA results may demonstrate that the reality is at odds with the story.
What I have found, time after time in my own family research or when working with clients' ancestors, is that the truth is almost always more fascinating and more evocative of the history of the people of Scotland than the myth.
In my own family history, my 3 x Great Grandfather, Alexander McGregor, was born around 1800 in a village on a hillside on the north side of Loch Rannoch – Tòrr a'Chruidh (Hill of the Cattle), also known as Annat, no more than a few miles from the Highland North section of the Heart 200 route.  The village was abandoned around 1820 [13].  The events of Alexander's life reflect the story of the depopulation of rural Scotland in the 18th and 19th centuries; the value that was placed on education and the effect it had on social mobility for the generations which followed.  Some of the abandoned structures of Tòrr a'Chruidh are still standing.  Knowing the stories and visiting the places where your ancestors were born, worked and spent the seasons leave deep personal impressions and perspectives that books and films struggle to convey.  Genealogy enables us to find our own families' stories and to take our own journeys to see what our ancestors saw.
So many of the landscapes and historic buildings proximate to the route of Heart 200 have changed little over hundreds of years. If you are lucky enough to have ancestors who lived and worked on or near the route, to see the sites and landscapes that they saw – whether it is brooding Stirling Castle or Schiehallion reflected on a glassy Loch Rannoch – you are fortunate indeed. If, like many folk, you have no idea where or how your ancestors lived – where will their journey take you?
[1] Regalado, Antonio. (2019) More than 26 million people have taken an at-home ancestry test. Massachusetts Institute of Technology Technology Review. 11 February. Biotechnology/DNA Testing. https://www.technologyreview.com/2019/02/11/103446/more-than-26-million-people-have-taken-an-at-home-ancestry-test/: accessed 23 July 2020.
[2] The Scotsman. (2016) The Scottish diaspora: How Scots spread across the globe. 25 January. https://www.scotsman.com/whats-on/arts-and-entertainment/scottish-diaspora-how-scots-spread-across-globe-1484633: accessed 23 July 2020.
[3] Visit Scotland. (2017) Scotland Visitor Survey 2015 – 2016: Connections to Scotland Extract. https://www.visitscotland.org/binaries/content/assets/dot-org/pdf/research-papers/connections-to-scotland-extract.pdf: accessed 23 July 2020.
[4] Visit Scotland. (2013) Summary of Ancestral Research 2012. https://www.visitscotland.org/binaries/content/assets/dot-org/pdf/research-papers/ancestral-research-2013.pdf: accessed 23 July 2020.
[5] Ibid.
[6] Christie, Thomas A and Christie, Julie. (2020) Heart 200 Book: A Companion Guide to Scotland's Most Exciting Road Trip. Stirling: Extremis Publishing Ltd.
[7] Electric Scotland. Alphabetical list of Scottish names associated with clans and families. https://www.electricscotland.com/webclans/alphabetical.htm: accessed 24 September 2020.
[8] Old Scottish. Surnames beginning with D. https://www.oldscottish.com/surnames-d.html: accessed 24 September 2020.
[9] Electric Scotland. Alphabetical list of Scottish names associated with clans and families. https://www.electricscotland.com/webclans/alphabetical.htm: accessed 24 September 2020.
[10] Old Scottish. Surnames beginning with G. https://www.oldscottish.com/surnames-g.html: accessed 24 September 2020.
[11] National Records of Scotland. Scotland's People. https://www.scotlandspeople.gov.uk: accessed 24 September 2020.
[12] National Library of Scotland. Map images. https://maps.nls.uk: accessed 24 September 2020.
[13] Cunningham, A. D. History of Rannoch.  3rd ed. Inverness: Highland Printers. Chapter "The Vanished Races". www.electricscotland.com/history/rannoch16.htm: accessed 9 June 2018.
Welcome back. Heart 200 is once again opening up for business.
When I wrote our previous Statement back in March, I said: "I believe there is light at the end of the tunnel. When this passes, and it will, there is likely to be a healthy upsurge in stay-vacation numbers in 2021. Perhaps even sooner. Interest in home-based breaks will jump significantly, as people look closer to home for holiday destinations."
The last four months have been incredibly difficult for all of us and the Covid-19 pandemic has interrupted the world as we knew it. We're still not out of the woods, but we are at least heading in a better direction now; restrictions are easing, and life is beginning to head back towards some semblance of normality.
As tourism businesses begin to operate once more, the Heart 200 area is, perhaps cautiously to begin with, welcoming visitors back to this beautiful part of Scotland and offering a fantastic range of visitor experiences.
Scotland is unlikely to see the usual mix of overseas visitors in the remainder of 2020, and the reciprocal flow of British holidaymakers heading abroad for their well-earned break is also likely to be drastically muted this year. The result is likely to be an upsurge in the stay-vacation.
For British people looking for a break and escape from the stresses of the last few months, we invite you to come and explore the Heart 200. The heart of Scotland has a wide range of delights and is the perfect holiday destination for so many people. We have wide open spaces, fantastic scenery and a great selection of providers for your accommodation, activity and food and drink requirements.
Please explore our website and make Heart 200 your holiday choice for 2020. Make this the year you discover the heart of Scotland.
Robbie Cairns,
MD, Heart 200
Image by NickyPe from Pixabay.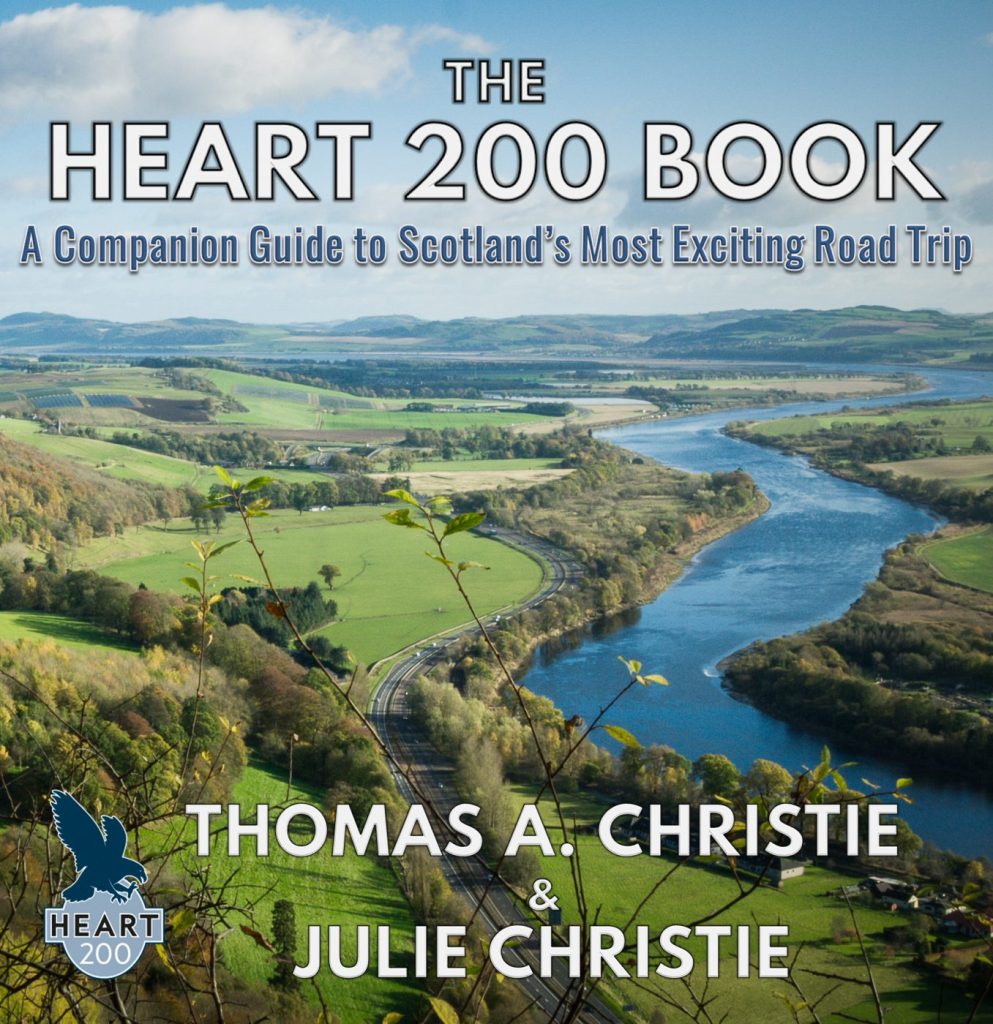 The Heart 200 Book: A Companion Guide to Scotland's Most Exciting Road Trip
"The Heart 200 Book: A Companion Guide to Scotland's Most Exciting Road Trip" by Thomas A. Christie and Julie Christie is now available to buy. While the country remains under lockdown during the current coronavirus pandemic situation, this book describes the many destinations that visitors can look forward to on Scotland's Heart 200 route once the quarantine period ends and life returns to normal.
Unlike other travel guides, "The Heart 200 Book" doesn't focus on restaurants and hotels, but rather the unusual stories, remarkable places and cultural observations that help to make travelling the route such a truly distinctive experience.
Presented with colour illustrations and written with the full co-operation and approval of the Heart 200 team, "The Heart 200 Book" presents a road trip you will never forget. For information about how to order your copy, please visit the "The Heart 200 Book" page on the Extremis Publishing website at: https://www.extremispublishing.com/the-heart-200-book.html.
The Heart 200 Book is a guide to the very best that the route has to offer. You will discover the history and culture of this remarkable region, from antiquity to the modern day, with more than a few unexpected insights along the way. Over the millennia, this amazing land has made its mark on world history thanks to famous figures ranging from the ancient Celts and the Roman Empire to King Robert the Bruce and Mary Queen of Scots, by way of Bonnie Prince Charlie, Rob Roy MacGregor, Robert Burns, Sir Walter Scott, Queen Victoria and even The Beatles!
So whether you're travelling by foot, car, motorhome or bike, get ready for a journey like no other as the Heart 200 invites you to encounter standing stones and steamships, castles and chocolatiers, watersports and whisky distilleries… and surprising secrets aplenty! Illustrated with full-colour photography and complete with Internet hyperlinks to accompany the attractions, The Heart 200 Book will introduce you to some of the most remarkable places in all of Scotland and encourage you to experience each and every one for yourself. It really will be a tour that you'll never forget.
With the outbreak of the coronavirus epidemic here and around the world, there is no doubt that the tourism sector is facing a crisis of grave proportions. Business survival is paramount alongside personal health and safety. On behalf of Heart 200, and as a fellow hospitality business owner myself, I urge you to take Government directives seriously.
Despite current circumstances, I believe there is light at the end of the tunnel. When this passes, and it will, there is likely to be a healthy upsurge in stay-vacation numbers in 2021. Perhaps even sooner. Interest in home-based breaks will jump significantly, as people look closer to home for holiday destinations. Many who have had to spend weeks, if not months, at home will be desperate for a break in the great outdoors. Scotland will be top of the list. There is every reason to hope that this lift in domestic tourism will be followed by an influx of visitors from mainland Europe. The best of times may well be just around the corner.
At Heart 200 we are determined to make the heart of Scotland the focus of the renewed appetite for UK-based holidays. Work progresses on our website, Visitor Travel Club, business membership and initial merchandising. There are some very exciting and eye-catching projects in the pipeline aimed at benefiting both the hospitality and tourism sectors. Our membership is growing!
We are delighted to welcome Fonab Castle Hotel & Spa on board as an Ambassador of Heart 200, joining the likes of Crieff Hydro Hotel, another hotel giant in Perthshire. Coupled with this, Historic Scotland, with its five castles in the region, has become a business member alongside the RSPB Wildlife Charity in Kinross. In addition, we're delighted that a dedicated guidebook for the region has just been published – The Heart 200 – a real treasure trove of interesting things to see and do in this beautiful part of Scotland.
Every tourism business within the heart of Scotland is welcome to join us and become a business member of Heart 200. Help us to help you weather this storm. The more Heart 200 can offer visitors the better. We're looking for restaurants, hotels, B&Bs, car hire companies, cafes, visitor attractions, gardens, outdoor activities, art galleries and castles to highlight. There is so much for us to boast about in this region!
Join Heart 200 now and you can settle your subscription later in the year when all is back to normal. To find out more please email us at [email protected].
In the meantime, keep safe, don't despair – we'll get through this together.
Robbie Cairns,
MD, Heart 200
Image by mohamed Hassan from Pixabay
As a result of the rapid escalation in the Covid-19 crisis, an unprecedented number of shows and events have been cancelled or postponed.
In each and every case, the decision to cancel or postpone has been a heartbreaking one for the organisers to make and has inevitably led to those planning to attend feeling disappointed.
Nevertheless, we all need to play our part in slowing the spread of the virus and restrict our normal movements until this crisis is over. As soon as we come out the other side of this period of social distancing, we can hopefully look forward to once again enjoying visits to the theatre, cinema, live music, sports events and so on.
In the meantime, we will use this website to relay news of cancellations and postponements, and somewhere down the line, announcements of events starting up again.
Statement from Historic Environment Scotland
Image by Diese lizenzfreien Fotos darfst du zwar verwenden from Pixabay
In December 2019, writer and blogger FionaOutdoors took a three-day trip around the Heart 200.
Read her account of her journey, the places she visited and the accommodation providers that she stayed at.
Heart 200 is about slow tourism and taking your time to see this special area of Scotland, so in that spirit, sit back, take your time and enjoy reading Fiona's Heart 200 story.
Here's the link to the FionaOutdoors article: "Heart 200 – A road tour at the centre of Scotland".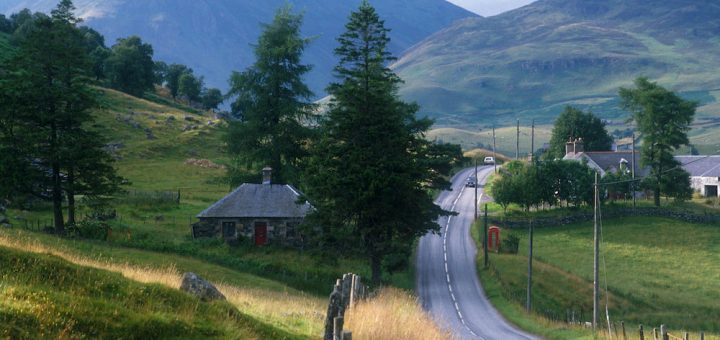 21 historic highlights on the new Heart 200 trail.
From Stirling Castle to Balvaird Castle and Scone Palace to the Fortingall Yew, this article describes a sample of 21 historical features around the Heart 200 route.
Read the article on the History Scotland website.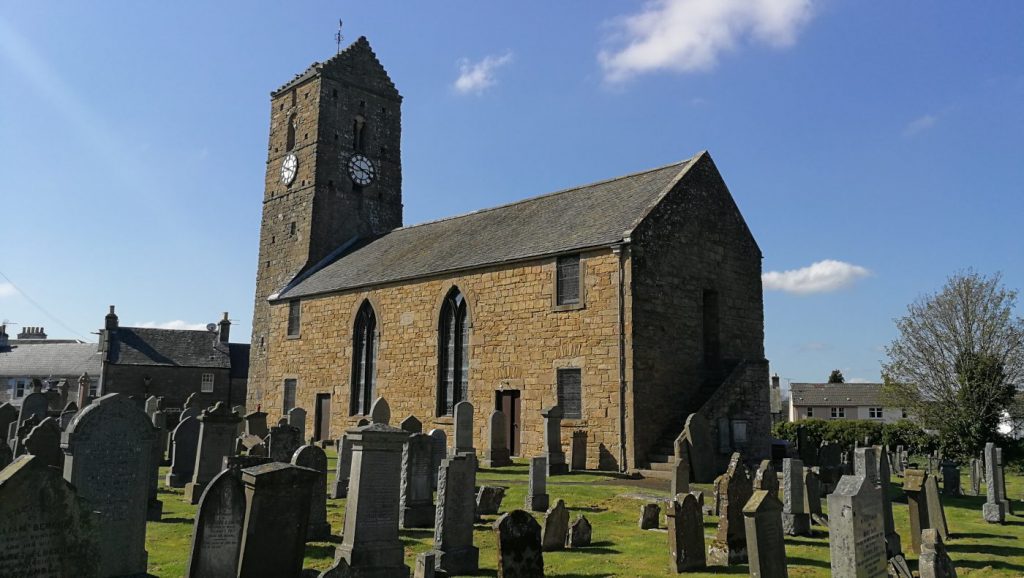 A recent trip around Heart 200 is the subject of an enjoyable blog article on the Full Stop Next Chapter website.
Read this account of a five-day Heart 200 trip with Segway riding, wild swimming, wildlife watching, a night in a SeaKing helicopter, amazing food and lots more.
We hope this will provide you with a few ideas and whet your appetite for your own Heart 200 adventure.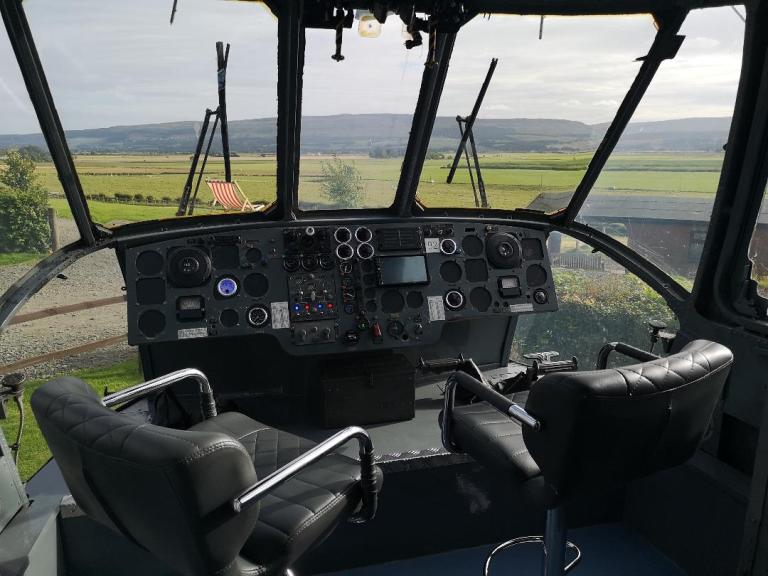 The Solheim Cup golf tournament is taking place at Gleneagles from September 9th to 15th.
This will result in a road closure that will affect the suggested Heart 200 route, although only for a very short distance and there will be a diversion in place. The section that will be closed is on the A823 between the A9 Gleneagles junction and the Muirton roundabout near Gleneagles Hotel. The diversion that will be in place will take traffic around the event area via roads in and out of Auchterarder. The extra distance will amount to about two miles or three kilometres.
Anyone attending the Solheim Cup and wanting to find out about transport options should visit this page.